If you work in healthcare and scrubs are staples of your daily wardrobe, discover the great selection at Miller's Workshop! We carry the top brand names in a great selection of styles, patterns, and colors for men and women at prices you'll love. Whether you work in a nursing facility, hospital, dentist's office, veterinary practice, or another healthcare profession where scrubs are practical, you're sure to find the right fit to keep you comfortable and stylish on the job at Miller's!
WE HAVE THE QUALITY & BRAND NAMES YOU WANT!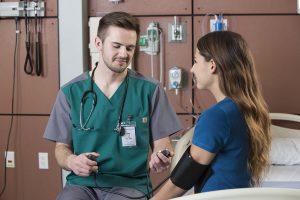 Long shifts call for comfort and durability. We have you covered with the best quality scrubs and brand names, including Carhartt, Cherokee, Koi, and WonderWink.
CARHARTT outfits the hardest workers in America and recognizes that they're not all in the fields or construction sites. Hospitals and healthcare workers pull extra shifts. Carhartt scrubs will see them through those extra hours. Features like FastDry® technology that wicks away sweat, Stain Breaker® releases stains in the wash, earbud holders, multiple pockets, and hard-to-rip fabric makes Carhartt scrubs the favorite of many workers.
CHEROKEE APPAREL has been known for comfort and fashion since 1972. This ready-to-wear heritage has shaped the way they approach designing medical scrubs with style and personality, without sacrificing the functionality you need on the job. Adding new styles each season, Cherokee works with a nationwide nurse panel to get feedback on new products and industry trends. Their quality won't disappoint you!
WONDERWINK strives to capture the fresh, fun, and exciting essence of uniform apparel, with its perfect fit, finish, details, and colors. They believe you shouldn't have to settle for the same old scrubs! WonderWink offers lines that fit any style, with various necklines, pocket choices, ties, elastic, fold-over waistlines, colors, and prints. They live up to their slogan, "When you wear WonderWink, expect compliments!"
KOI believes in making scrubs people love to wear. If you must wear them to work, your scrubs should make you look and feel amazing! Their little touches and details make Koi scrubs unique. Koi's highly functional fabrics are super soft and durable. Need flexibility? Koi stretch scrubs are ideal. Get a new look with Koi's fashion colors and stylish, cute prints!
NEED A LAB COAT? WE'VE GOT YOU COVERED!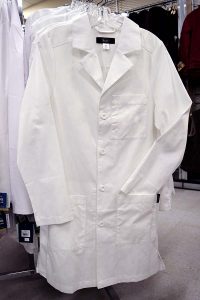 Whether you work in a lab or are consulting with patients, lab coats are a necessity for looking your professional best! At Miller's Workshop, you'll find an excellent selection of lab coats for men and women in various styles and fabrics.

IF WE DON'T HAVE YOUR SIZE, WE'LL GET IT!
At Miller's Workshop, we know healthcare workers come in all shapes and sizes. For that reason, we carry sizes from Small to 2XL in many of our scrubs lines and lab coats. Plus sizes are also available.
If you can't find what you want in your size, we'd be happy to special order available items for you. Customer service is our top priority. Please don't hesitate to ask!